In our wonderful retro-vintage site you will find unique and exclusive Royal Titles for Sale at an unbeatable price. This is an opportunity not to be missed, a once in a lifetime chance to change your life and improve it by acquiring and obtaining something that the others do not have.
You will find titles of Lord and Lady, Baron and Baroness, Count and Countess, Duke and Duchess, Prince and Princess, and many more titles unique to us that you will only find here.
All our royal title packs contain a very carefully prepared set of documents, which include Hand Signed Letters Patent of Nobility, Certificates of Ownership, Historical Maps, Guide of Use of our Titles, Luxurious Folders, a Master Title Deed, and of course, our very beautiful Neck Medal, in Gold and Blue Enamel, ready to be worn.
Also, our Royal Titles have a very nice vintage flavour, of grandeur, antiquity and prestige, and all the Royal Titles are inheritable, and available both for males and females. Our legal and effective inheritable titles with regalia are some of the best on the net.
If you feel ready for this life-changing adventure, please come to us and be part of our ever growing family and community.
Why Becoming a Lady in Modern Times?
The words distinction, education, good behaviour and class always come to mind when speaking of Ladies. We do not know whether a German Title of Lady will change your life for good or not. But we do know that it is always good to have something that no one else has. And this alone would be a good reason to buy.
History is full of famous Lords and Ladies. One of the most famous ladies of the Germanic world is Sissi, nickname for Elizabeth, Empress of Austria, and one of the most famous women of the world, always surrounded of an aura of romanticism and mystery never seen before.
Or have you thought about the Empress Alexandra of Russia, wife of the Last Tsar Nicholas, and her wonderful and worldwide famous Neck Collars of Pearls, that almost bankrupted the Russian Empire?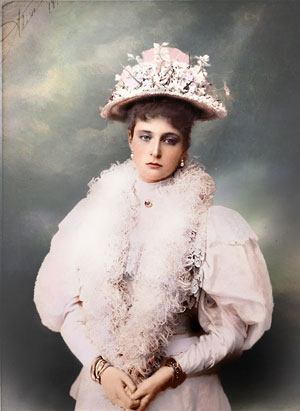 Sissi was a Bavarian Lady, and Alexandra was a Lady and Princess from Hesse. Have you ever read about the tragic love story between Crown Prince Rudolph and the young German-Hungarian Baroness and Lady Mary Vetsera, the world famous event called "The Mayerling Incident?
The Germanic Titles of Lady are very interesting, as they relate to a hauntingly beautiful and romantic world almost forgotten. When you acquire one of our Lady Titles in our wonderful retro-vintage site, you will enjoy a time-travelling experience and discover a new world.
This new world is reminiscent of all the impressive romanticism of Central and Eastern Europe in the Belle Époque! We are talking of a world of deep green forests where beautiful women rode horses, wore black velvet capes, and was common to assist to masked balls in snowy and mysterious castles, and dance all the night under the light of candles, fires and magnificent chandeliers with handsome and decadent officers of the Imperial Armies.
So, yes, indeed, our titles of Lady are very romantic, and reminiscent of a glorious past that should not be forgotten. If you feel particularly interested in this world of wonderful Germanic world of central and eastern European Ladies and Princesses, we recommend that you read this.
We are here not only to sell titles, but we are also here to show you and prove you that a magnificent world has existed before us, and this is a way of honouring it. These titles are wonderful gifts for everyone.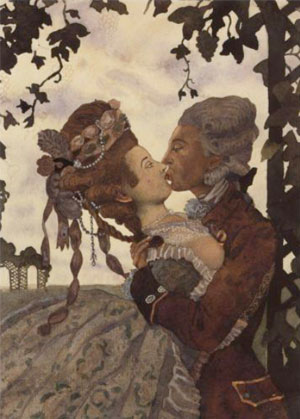 A Kiss, by Konstantin Andreyevich Somov, 1914. A lady Kissing a Lord under the ivy of a mysterious conservatory in Central-Eastern Europe, at the beginning of world war I. They wear baroque XVIIIth century attire.
List of our German Royal Noble Titles for sale:
Lord or Lady
They are very romantic, prestigious and an impressive addition to a collector of titles, honours, and retro-vintage medals. Always come with our top-quality neck medal, and all our full documentation pack, containing the most luxurious pack on the net. An opportunity not to be missed.
Baron or Baroness
Oh, yes, the always fashionable and nearly immortal titles of Baron and Baroness, the most famous German title ever! Lots of aristocratic men and women, politicians, ministers, famous women, military officers, writers and adventurers. A Baron or Baroness title never goes out of style.
Viscount or Viscountess
Oh, a bit of grandeur, reminiscent of the German parts of northern France, medieval castles sitting on foggy hills, and deep-beautiful green forests. A very elegant title able to suit you for any occasion! Count or Countess: well, this also an immortal classic and one of the safest bets. Who wouldn't want to be a Count or Countess with all the radiant splendour that inspires?
Marquis or Marchioness
If more grandeur and an epic dimension are needed, along with a decadent touch, then the wonderful title of Marquis or Marchioness is indeed for you to enjoy. Be ready to open your bottle of Champagne, and it does taste better when the one who drinks it is a Marquis or Marchioness, we are sure of that!
Duke or Duchess
Well, if you feel that a more royal touch is needed, and a greater sense of importance and prestige is what you want, the titles of Duke and Duchess are indeed for you!
Prince or Princess
Yeah, we all like this one. Who hasn't ever dreamed of becoming a prince or Princess, with all the super-glamour and Prestige that implies?? We do provide you with all the necessary trappings to become a true and real Prince or Princess, why not take it? And if it is not enough, we even have more types of titles, like Archduke and Archduchess and Prince Elector, nearly king-like titles. With us, you get everything!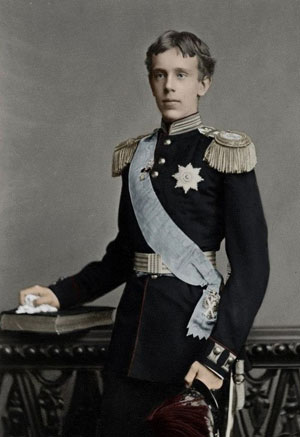 How to become a Lord in the XXIth century:
We have been working hard in order to give you what you need to become a Lord in nowadays society, this frightening post-industrial world. Now it is more important than ever to look at the past, because the past is a very interesting mirror.
For that reason, with every German Title package you buy, you receive:
Hand Signed Letters Patent with the Magnificent Golden Seal of the Kingdom
Hand Signed and Sealed Certificate of Authenticity
Hand Signed and Sealed Apostille of the Kingdom
Hand Signed Letters Patent as a Knight Templar of Livonia
Secret Templar Oath with the Golden Seal of the Kingdom
Always included our impressive Blue & Gold Neck Medal with Blue Ribbon
Ancient Map of the Livonian Empire in French-Baltic Antique Style
Ownership Certificate with the Imperial Livonian Black Eagles
Impressive Red Burgundy Folder containing our Guide to use your Royal title and to add it to credit cards, bank accounts, chequebooks and much more. It also contains a Master Title Deed for free to change your name if you so wish
All Letter Patents are contained in the Luxurious Royal Title Package Folder, in French-Baltic Antique Style
With this luxurious pack, you have it all. Also, you can choose any title you like, from Lord or Lady to Prince or Princess, and even more. We have thought of everything for you to enjoy these truly magnificent, effective, legal and inheritable titles. You can see images of what you get at the side of the page. Take advantage of this wonderful opportunity and ennoble yourself right now!
STAND OUT FROM THE CROWD
BUY NOW